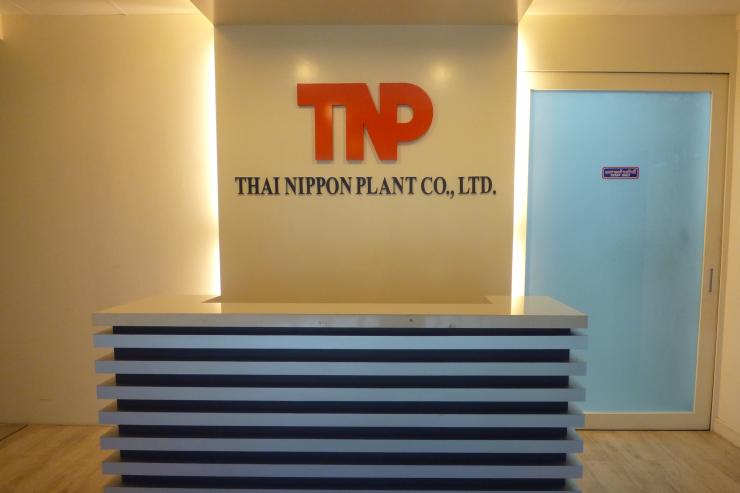 Company Name
Thai Nippon Plant Company Limited
Address of office
2/71 Bangna Complex Bldg.14th Fl. Soi Bangna-Trad 25, Debaratna Rd., Bangna Nuea, Bangna, Bangkok 10260 Thailand
TEL
(662) 746-9978 , (662) 746-9979
FAX
(662) 746-9899
Establishment
October 1996
Paid-up Capital
Baht 6,000,000
Nature of Business
Plant Engineering and Contractor
Affiliated Companies
Safar International (Project Contact Office in Japan)
Director
Mr. Kenichi Doi
Staff
・ Project Engineer
・ Mechanical Engineer (Piping, Equipment)
・ Civil Engineer (Foundation, Steel Structure, Building)
・ Inspector
・ ProjectEngineer
・ Site Supervisor

1996
Established as a piping design consulting company under the name of K.T.Tawan Co., Ltd. by Mr. Kazuhiro Tanaka with a capital of 2 million baht, while he was a director of Toyo Thai Corporation Public Company Limited. (Thai subsidiary of Toyo Engineering Corporation)
2000
Started EPC business mainly in the field of equipment and piping
2003
Started Electrical and instrument work.
2005
The sales amount of 100 million bahts was achieved.
2007
Started civil and building work as a total engineering company. Capital: 4 million baht.
2008
Mr. Kenichi Doi replaced to Mr.Toshikazu Tanaka and assigned to the managing director.
A brief history of Mr.Kenichi Doi
1974 – 2004
Project Management Division of JGC Corporation after the Civil Engineering Dept. During this period, He had experienced to stay in Saudi Arabia and Indonesia.
2004 – 2007
Chemical plant design in a Japanese construction company in Thailand
2007
Joined to KT Tawan Co., Ltd.
2008
Assigned to Managing Director of KT Tawan
2010
The company name was changed to Thai Nippon Plant Co,. Ltd.
2011
The sales amount of 400 million bahts was achieved.
2012
The capital was increased to 6 million bahts.
2016
Started the consultant business specialized in plant construction and operation.